London Heathrow Airport

London Heathrow' is 14 miles (21 kms) west of central London next to junction 4a of the M4 motorway or junction 14 of the M25. It is at the western end of the Piccadilly underground line and served by a dedicated rail link (Heathrow Express) and a semi-fast link (Heathrow Connect) from London's Paddington train station.
London Heathrow Airport handles over 67 million passengers a year and demand is always growing.

Heathrow is the busiest international airport in the world and transports 1.3 million tonnes of cargo per year. London Heathrow has 2 main runways, a cross wind runway, 4 terminals and a fifth terminal is currently under construction. Heathrow serves around 90 airlines to over 180 locations worldwide.
Heathrow airport is very large. It is actually not one but 5 separate airports, or terminals. Heathrow Airport is used by over 90 airlines which fly to 170 destinations worldwide. Heathrow's reputation for thefts has led to it sometimes being referred to as 'Thiefrow'.
Be sure you know which terminal your flight will land at or depart from. Heathrow has two parallel main runways running east-west and five terminals. Heathrow's newest terminal Terminal 5 is open for business.
Terminal 1
Terminal 1 was opened in 1968. Terminal 1 handles most of Heathrow's domestic and Irish routes along with some long haul routes and European routes.
Terminal 1 facilities

Terminal 2
Terminal 2 is Heathrow's oldest terminal and was opened as the Europa Building in 1955. Terminal 2 wassoriginally named the Europa Building. Carrying over 8.5 million passengers, 28 airlines operate from this terminal. There are some long haul flights operating from terminal 2 although most are for European destinations. Terminal 2 handles mainly European routes.
Terminal 2 facilities

Terminal 3
Terminal 3 was opened as The Oceanic Terminal in 1961 to handle flight departures for long-haul routes. The Oceanic Terminal was renamed as Terminal 3 in 1968.
Terminal 3 facilities

Terminal 4
Terminal 4 was constructed to the south of the southern runway next to the existing cargo terminal, away from the three older terminals, and was connected with Terminals 1, 2 and 3. Terminal 4 was opened by the Prince and Princess of Wales in April 1986.
Terminal 4 facilities

Terminal 5
Terminal 5 was officially opened by the Queen on the 14 March 2008 and opened to passengers on 27 March 2008. On the day of the terminal opening, British Airways had "teething problems" and was later forced to suspend passenger check-in. Terminal 5 is a multi-modal transport interchange with specially constructed road, rail and underground links. A bus and coach station is on the ground floor of the 3,800-space car park, while a six-platform rail station is located under the main terminal building, housing extensions to the London Underground Piccadilly Line and Heathrow Express. Ten 50-person glass lifts will take passengers from the station to Departures..
Terminal 5 Facilities

Getting into/from London
Heathrow Express: a non-stop service directly to London's Paddington station; trains leave every 15 minutes for the 15-minute journey, either from Terminal 5 or Heathrow Central (Terminals 1, 2, 3). Passengers transferring between these two stations on the Heathrow Express may use the service free of charge. (Tickects are £13.50 single if purchased online; £14.50 if purchased at the station)
Heathrow Connect: a 25 minute train trip, with departures every half hour, from the same platform as the Heathrow Express. Heathrow Connect stops at Ealing Broadway, West Ealing, Southall, Hanwell, Hayes, and Harlington and Paddington Station. Heathrow Connect services use Heathrow Central station (Terminals 1, 2, 3) and terminate at Terminal 4 - passengers transferring between these two stations at Heathrow may use the service free of charge. The cost, is significantly cheaper than Heathrow Express (£6.90single, £12.90 open return-trip).
National Express Coach services between Heathrow's central bus station and Victoria Coach Station. The journey takes between 40 minutes and 1 hour 30 minutes, depending on the route. Some services stop en route in Hammersmith or Earl's Court. Standard tickets cost £4 single or £8 return. Services from Heathrow commence around 5.30 am and run until 9.30pm.
The Piccadilly line is slower (stops over 15 times before reaching Central London and takes 45+ minutes) and can be quite difficult to manage with suitcases and luggage. It can get very busy with commuters during the rush hours. Whilst access to the Heathrow Express is easy, if travelling on the Piccadilly Line (Underground) be ready to carry your bags up and down steps. It currently costs £4 for a single (one-way fare).
Taxi: You can use the black taxi service for transportation. Prices to the city centre run about £55.You can also consider a minicab, which should cost less at about £35 for the same trip.
Heathrow by Bus: Between midnight and 5.30am, the N9 night bus runs every 30 minutes to Central London (Trafalgar Square). Journey time is approximately 65 minutes.Standard bus fares apply (£1 Oyster/£1.50 cash) and Travelcards are accepted.
Limousines from all London airports are a luxurious treat to end a very often stressful flight or to make your journey to the airport punctual and comfortable. Some are actually very cheap and provide a lot of service for the money; they may come in and meet you in the airport, serve you tea and coffee with biscuits or have a fully stocked bar. Check the policies of the companies, as some will give you your money back If they are delayed.
Airport transfer services are good alternative as these are cars or vans that you book in advance, and can be especially economical for groups. Fares can be as little as £44 for a group of four, or £19 for a single (prices last verified March 2007. Seasonal variations.). The hottest recent entry to this service (August 2009) is Parker Airport Shuttle who will take up to three passengers to central London for 24.50 (total not each) from Heathrow Airport and £34.50 Gatwick Airport. Most of these services will drop you at any address inside the M25 ring road.
Coach Transfers
Coaches are a very economical way to travel into the city centre. Due to congestion on the motorways, they can take much longer than the train, but can be muchcheaper.
The UK's main coach company National Express runs frequent, comfortable services from Heathrow (about 1 hour) , Gatwick (about 1h20), Stansted (about 1h30) andLuton (about 1h20) to Victoria coach station, the main hub for British coach travel, where coaches and trains can be caught to many other parts of the UK and Europe, or the tube taken to your destination in central London.
National Express has a so-called "funfare", an off-peak fare, which is much cheaper than the train, e.g. Victoria Station (central London) to Southampton costs only 4 pounds on-way, compared with 26 on the train! Other companies such as Terravision also offer low-cost coach travel from Stansted and Luton, with discounts for Ryanair passengers. GreenLine and EasyBus also offers a coach service from London Luton airport, with discounts for EasyJet passengers. All the coach services operate very frequently and tickets can be bought online or at the airport when you arrive.
International train travel
Eurostar is the only high speed international train service operating between the UK and France/Belgium. From late 2007, Eurostar will terminate at St Pancras International, a newly-renovated station in central London, with the longest champagne bar in Europe. Journey times are currently approximately 2.5hrs from central London to central Paris, and 2.25hrs to central Brussels. Onward connections are available throughout Europe.
Domestic train travel
King's Cross, Victoria, Paddington and Euston stations are just a few of the main terminals for train travel, and all connect to the Underground and buses. If you get lost, there are maps galore in all the Underground stations and you can always ask one of the knowledgable staff members who patrol the stations.
Train times from London airports:
DLR from London City Airport, 22 minutes to Bank, 14 minutes to Canary Wharf.
Heathrow Express, 15 minutes to Paddington. Piccadilly Line 1 hour to Piccadilly Circus station.
Gatwick Express 30-35 minutes to Victoria (30-40 minutes on the Southern Line). First Capital Connect 30-35 minutes to London Bridge.
Stansted Express 45 minutes to Liverpool Street.
First Capital Connect (formerly Thameslink) 35 minutes from Luton Airport Parkway to St Pancras International Station
Heathrow Airport Parking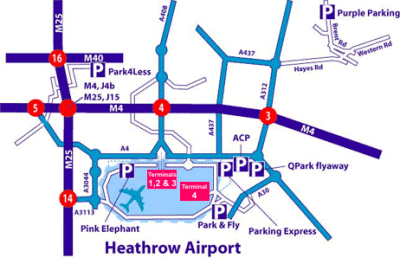 Heathrow airport is humongous. It is actually not one but 5 separate airports, or terminals. Make sure you know which of five terminals you are flying from. Terminals 1, 2 & 3 are located in the centre of Heathrow and can be reached via the following motorways:
M4 Junction 4

M25 Junction 15

A4 (local road)
Terminal 4 is on the south side of Heathrow and can be reached via the following motorways:
M4 Junction 3

M25 Junction 14

A30 (local road)
Directions to Heathrow Parking Express T1,2,3
Serves terminals 1,2 & 3.Transfers operate every 10 minutes to terminals 1,2 & 3 taking approx 15min.
From the M4 Junction 4 follow signs to Heathrow Airport. Move towards Long Term Parking reaching Heathrow Perimeter Road. Move towards Long Term Parking and Parking Express. On arriving at the car park take a ticket at the barrier. Park your car and take the keys.
Directions to Heathrow Parking Express T4
Serves terminal 4.Transfers operate every 10 minutes. From the M4 Junction 4 follow signs for Heathrow Airport and then signs for Long Term Parking. You will reach Heathrow Perimeter Road. Move towards Long Term Parking and Parking Express. On arrival at the car park take a ticket at the barrier. Park your car and take the keys.
Directions to Heathrow Pink Elephant Car Park
Leave the M4 at Junction 4 and follow signs to the airport. Turn left at the last exit before airport tunnel signpost. Turn right at the roundabout. Turn right again at the traffic signal, Move towards the Northern Perimeter Road. Follow signs to Pink Elephant Parking. On arrival at the car park take ticket at the barrier.
Directions to Heathrow Q-Park Car Park
Leave M4 at Junction 3. Follow A312 towards Hounslow/Feltham. At the roundabout turn right onto A4 (Bath Road) towards Heathrow Terminals 1,2 and 3. Q-Park Flyaway is approx 2 Km down the A4 on left, next to the Travel Inn. On arrival park in the arrivals bays.
Directions to Heathrow Park 4 Less
Serves terminals 1,2 & 3.Transfers operate every 30 minutes to terminals 1,2 & 3.
Leave the M4 at Junction 5, take the A4 to Colnbrook. At the 1st traffic signal, turn left into Sutton Lane. Turn right at 2nd traffic signal signposted West Drayton/Iver. At the small roundabout turn left next toTower Arms Pub into Thorney Lane. Cross the railway bridge then take 1st right into Court Lane Trading Estate. Move under the M25 bridge and turn left. Follow signs for Park 4 Less. On arrival at the car park, park outside the reception and hand in your keys.
Directions to Heathrow Purple Parking
Leave M4 at Junction 3 and follow A312 north, signposted to Hayes and Western International Market. After 500 yards at the first roundabout turn right by Tesco towards Southall onto Hayes Road. Go past the Western International Market and after approx 500 yards go straight to the small roundabout. Brent Road is the next turning on the left by the used car lot. Purple Parking is at the end of Brent Road after bearing right at the International Trading Estate.
Busiest international airport

Tel: 0870 000 0123

Second busiest cargo port

UK's largest airport

67 million passengers a year
Heathrow Economy Parking
Off Airport Parking
Minutes from the Terminal Buildings

On-demand courtesy transport to Heathrow Airport

Easy entry and exit arrangements

4 day minimum stay
Heathrow Airport Parking - Short Stay / Business
Short stay parking is recommended for stays up to five hours and is available from all four terminals. It is useful if you are seeing someone off on a flight or meeting someone from a flight. Prices start from £2.30 for up to 30 minutes. It will cost you £44.50 per 24 hour period. There is also a fifth car park in the central terminal area, car park 1a.

Business Parking is recommended for travellers parking for up to three or four days, or those wanting greater convenience. Business car parks are located closer to the terminals than long stay and operate a more frequent courtesy coach transfer. Suitable for leisure or business parking. Available from all four terminals. Prices range from £21.50 - £26.50 (per day).
Heathrow Airport Parking - Long Stay Parking
The long stay car parks located at Heathrow Airport offer secure parking facilities, conveniently connected to the airport's terminals via transfer services that run every 5-15 minutes.

Airport parking can be booked on the same day of departure, but it is advisable to pre-book in order to secure a parking space. Booking in advance is usually more economical with most car parks offering discounts for phone and online bookings.
Heathrow Airport Parking - Valet Parking
If you do not wish to have to transfer from the car park to the terminal you may wish to choose the Meet and Greet valet parking service.

The valet parking service involves a chauffeur meeting you at a pre-arranged time at your departure terminal and parking the car for you in a secure compound. Upon your return, the car will be delivered to you at the terminal.

The prices of the valet parking depend on how long you intend to keep your vehicle at the airport. A price guide can be seen below:
24 hours (or part thereof) - £42.95

2 days - £65.95

3 days - £84.95

4 days - £99.95

5 days - £114.95

Additional days - £15 per day
We value your opinion. Send us your feedback.