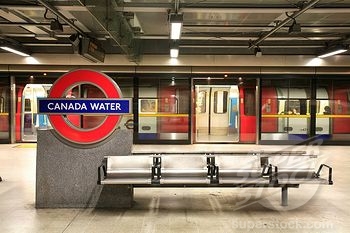 London Underground Transportation

Alcohol is banned by the Transport for London (TfL) from the Tube, buses, Docklands Light Railway, tram services and stations.
Colloquially known as the Tube, London Underground Transport System is the oldest metro system in the world. The London Underground network is a combination of various formerly independent train services. The earliest of these was the 'Metropolitan Railway', running on a four mile section of what is now called the Bakerloo line, running between Paddington and Farringdon St. This line first started service on 10 January, 1863.
The official London Underground began in 1890 when an electrically-powered line was opened between King William Street and Stockwell. More than 3 million passengers travel on the Underground every day.There are now 12 lines plus the Docklands Light Railway with a current 275 stations on the 12 lines.
Trains and platforms are described as Eastbound, Westbound, Northbound or Southbound depending on the direction of the line and the station. However, be sure to confirm that the direction of the train more or less coincides with your destination. The front of the train, and the platform indicator, will show the ultimate destination of the train which is usually (though not always) the last station on the line.
Please note that the Underground does not run 24 hours a day, (except for at New Year and on major public events, as it closes at night for maintenance work. First trains on the network start operating around 04:30, running every 3 to 8 minutes until around 01:30.
Overcrowding is common on the Underground, particularly at Camden Town station and Covent Garden. Restrictions are introduced at those stations when necessary. Clapham Common and Clapham North on the Northern Line are the last remaining stations with a single narrow platform with tracks on both sides. At particularly busy occasions, such as football matches, British Police may be present to help with overcrowding. On 24 September 2007, King's Cross underground station was totally closed due to "overcrowding".
In summer, temperatures on parts of the London Underground can become very uncomfortable due to its deep and poorly ventilated tube tunnels: temperatures went as high as 47°C (116 °F) in the 2006 European heat wave. Keep a water bottle handy to cool you down. Wear layered clothes so you can remove off some clothing while on the trains.
Note that the underground trains do not have toilets on board. Some of the stations might have toilets most of these are pay toilets.
Regular underground service runs from 0530 to just after midnight. The gap in service during the night is bridged by a new night bus service. Night buses cover the whole of the London and generally run all through the night at frequencies ranging from hourly to 4 an hour, seven nights a week. The most densely trafficked routes are the radial ones from the centre out into the suburbs and vice versa. Those that follow exactly the same route as their daytime equivalents carry the same route numbers. However, some differ from the daytime routes: these can be recognised by the prefix ' N' in front of the route number. Check the times and the route detail on notices at the bus stops. Also, remember that, as at night all stops are officially treated as request stops, you should always signal to the driver that you want to get on or off.
Stations within walking distance of each other:
Here's a list of stations within walking distance of each other:
Paddington (B, Ci, Di, H) - Lancaster Gate (Ce)
Great Portland Street (H, Ci, M) - Regent's Park (B)
Great Portland Street (H, Ci, M) - Warren Street (N, V)
Great Portland Street (H, Ci, M) - Goodge Street (N)
Warren Street (N, V) - Euston Square (H, Ci, M)
Euston (N, V) - Euston Square (H, Ci, M)
Bayswater (Ci, D) - Queensway (Ce)
Tottenham Court Road (Ce) - Covent Garden (P)
Farringon (H, Ci, M) - Chancery Lane (Ce)
Cannon Street (Ci, Di) - Bank (Ce, N, W, DLR)
Cannon Street (Ci, Di) - St Paul's (Ce)
Mansion House (Ci, Di) - St Paul's (Ce)
Blackfriars (Ci, Di) - St Paul's (Ce)
The letters in parentheses are the lines: B - Bakerloo, Ce - Central, Ci - Circle, Di - District, DLR - Docklands Light Railway, H - Hammersmith & City, M - Metropolitan, N - Northern, P - Piccadilly, V - Victoria, W - Waterloo & City.
And two particular pairs of stations to note: Holborn (Ce, P) and Covent Garden (P) and Leicester Square (N, P) and Covent Garden (P) are so close together that if you are travelling to Covent Garden and pass through Holborn on the Central line, or Leicester Square on the Northern line it's quicker to walk from either station than it is to change to the Piccadilly line for Covent Garden.
First and last trains: Last trains leave central London at around 00:30 weekdays, 23:30 sundays.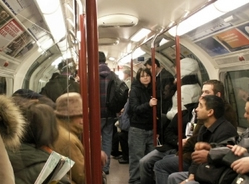 Travelcards
You can buy a Travelcard for 1, 3 or 7 consecutive days for any combination of travel zones. If you're just sticking within Central London, pick up a Zone 1 & 2 pass.
There's no need for an All-Zone pass unless you plan on heading out to the more suburban areas of London. Fees for Travelcards start at £4.90 and are valid on the Underground, Docklands Light Railway. Bus system and National Rail (but not the Heathrow Express) for the entire day, depending on whether you bought a Peak or Off-Peak pass. They also give you a one-third discount off river services. Off-Peak passes start after 9:30 am. A Travelcard for 7-days covering Zones 1-6 will cost an adult £41 but can be worth purchasing if you will be using the transport system across a variety of Zones, hopping on and off a lot of trains each day that the Travelcard will be valid.Another tip is to check the days on which you will be travelling before deciding on a multiple day Travelcard. If the three days you choose to travel on include a Saturday, Sunday or public holiday it may be cheaper for you to buy a combination of 1 Day Travelcards, or simply buy an Oyster Card and let it calculate the appropriate price.
The bus stops are well signposted and each stop gives information about all the bus destinations, alternative stops nearby for other buses, frequency, etc. On most routes buses are frequent during normal Monday-Friday daytime hours, with them becoming less frequent early morning, late evening and weekends.
A Travelcard purchased for the Tube is also good on the buses, but bus passes are not good for the tube.
If using the buses the spider maps are especially useful as they give complete details for each major bus stop. It is helpful to find the closest stop to your hotel and to print out that spider map before you begin your trip. The only tricky bit is that the overview map is very short of detail and the novice traveller will need to click on several options before finding which bit of London matches their location. On regular buses, only board via the front door and either show your ticket or pass to the driver, touch your Oyster on the reader or hand him the stub of your Saver ticket. On bendy buses you may board any of the three doors, and there is no need to show your ticket to the driver. There are Oyster readers at each door. The exception is for those using Saver tickets - you must still board at the front and give the stub to the driver.
Bus Stops
There are two types of bus stops; compulsory and request. Compulsory stops are white with a red roundel; request stops are red with a white roundel. The principle is that buses will always call at compulsory stops unless they are full but only at request stops if a passenger on board rings the bell once to signal that he/she wishes to get off or if an intending passenger at the bus stop hails the bus by holding his/her arm out parallell to the ground. In recent years, Londoners have taken to signalling their desire to get on or off a bus by ringing the bell/holding their arm out irrespective of whether the stop in question is compulsory or request. Visitors are advised to do likewise: there is now a risk that even at compulsory stops drivers will carry on regardless if no-one has indicated that they wish to get onor off. Two tips about ringing the bell: (i) if someone has already rung it there will be a STOPPING sign illuminated at the front, so there's no need to repeat the operation: and (ii) remember to signal in plenty of time - the driver won't brake hard if you suddenly signal as he/she passes the stop.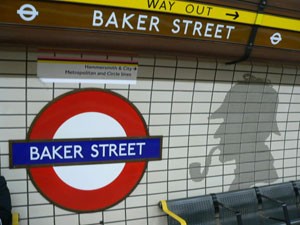 Service problems

It is wise to check if there are problems with Tube services before you travel, especially if it is important to arrive on time.
Problems with the normal services are common. Planned engineering works are often carried out at weekends or on public holidays: replacement bus services should operate, but journey times may be much longer than normal.

Some other useful tips when using the Tube:
Avoid travelling during the rush hours if at all possible

Check the front of the train for the correct destination

Stand on the right when using escalators
How to travel on the London Tube
For a first timer, travelling on the Tube is an overwhelming experience. The number of criss-crossing tunnels, the south bound, north bound, which line to take - in general you tend to feel at a complete loss. Don't. There is actually a method to the madness.
First, go to the nearest Tube station and arm yourself with a tube map. This is your bible. Hold it close to your chest at all times and study it at all times. Also remember that you must have an appropriate ticket for every journey. The easier way of avoiding the long queues at the ticket counters is to buy the Oyster Card and keep refilling it.
You next move across the ticket barrier gates which will open for you when you remove your ticket. Move towards the ones in green. Remember that the tube is old and most of the stations are not disabled (or suitcase) friendly. So if you've got a large suitcase and it won't pass through the barrier, look for manual entry/exit gates manned by a person. Feed your ticket into the barrier gate as soon as the person before you has taken their ticket back. You don't need to wait for the person to get through the gates and for them to close again.
Next, look for any white board notices of change of timings or info of any lines shutting down for maintenance. The notices will also have the timings of the next train. Make sure that the train you are on is heading in the direction you intend to travel. Usually trains are described as 'northbound' or 'southbound' (or east/west). The other issue is to be sure that the train is actually going where you want to go. Some platforms have trains for several different lines all stopping there, and so you'll need to be sure that the train you need is the train you're getting on.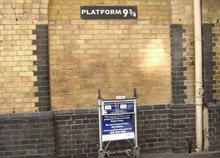 TUBE ETIQUETTE

Below are some rules about correct behaviour when using the Tube in London:

- If you are lost or waiting for someone, stand to one side or next to a wall - try not to get in people's way, especially near the top of escalators or near ticket barriers

- Stand on the right on escalators (moving stairs). People who are in a hurry walk up the left side, and they will be annoyed if you are standing there.

- When the Tube train arrives stand to the side of the doors to let people get off the train easily. Get on the train only when all passengers who want to get off have done this.

- Wait for the next train if the doors on a train are about to close when you arrive on the platform. Never hold the Tube doors open - it is dangerous and causes delays.

- When you get into a crowded lift or train, move inside as far as you can, so that other people can easily get on behind you. Don't lean against the doors: this may stop the train from moving.

- If you have large bags, get on the train using the double doors in the centre of a carriage, no the single door at the front or back of a carriage. Make sure that your bags do not get in the way of other passengers.

- Offer to give up your seat if you see someone who needs to sit down - for example, someone who is old, disabled, pregnant or who has young children. These people may need a seat close to the doors.

- Try not to eat while on the train, especially hot food or anything which gives off smells.

- Smoking is illegal everywhere on the Tube (for safety reasons).

- You are not allowed to drink alcohol on the Tube. Throw away any opened cans or bottles of alcohol before you try to enter a station.

- Take any rubbish with you when you leave the train (you can put it in a bin when you are outside again). For security reasons there are no litter bins in underground stations.

- Do not take a photograph using flash while you are on the platform. If a train is coming the driver will be temporarily blinded by the flash, and this may affect safety.

- Always respect the Tube's members of staff. Remember that it is not their fault if there are delays or problems.
Free Tube Maps and Guides
Transport for London produces free maps and guides to help you get around. You can pick them up upon arrival at any Tube station. London Travel Information centres sell tickets and provide free maps. There are centres at all Heathrow Airport terminals, major stations in London and the Britain and London Visitor Centre.
Maps - the colour-coded London Underground map is a familiar site to travelers. It is simple to follow, but when planning a journey please be aware of the number of transfers your journey will take. Many stations contain miles of corridors and numerous staircases, which can make traveling with heavy suitcases a real chore. A longer journey with fewer transfers between lines will be less troublesome if you are carrying luggage.
Tickets - You should consider an Oyster card and/or a Travelcard to get the best fares and beat the queues. You can buy tickets either from automated machines or at a ticket window. You will need to keep your ticket until you have passed throiugh the gates at your destination station. Be aware that ticket inspectors randomly police the Underground and there is a £10 fine for invalid tickets.
Cheaper by Oyster
Oyster card prices are always cheaper than paper tickets for the Tube. The cash single fare for all journeys via Zone 1 is £4, up to £2.50 more than the Oyster fare.
London Tube Interesting Trivia - Did you Know that...
The oldest tube line in the world is the Metropolitan line. It opened on the 10th January 1863.
Tube stations were used extensively as air-raid shelters in World War II. Many people were killed when a German bomb made a direct hit on King´s Cross station.

The Waterloo and City line covers the shortest route – 2 kilometers.
Tube carriages originally had no windows and buttoned upholstery and were nicknamed PADDED CELLS.
Harry Beck, designer of the tube map in 1933, was only paid five guineas for his original job. His design is still the basis of today's tube map.
The first escalator was introduced at Earls Court in 1911.
Bank is the only station whose name contains only one syllable. Bank and Oval are the only stations whose name contains only four letters.
Knightsbridge is the only station whose name contains six consecutive consonants.
There are four Underground stations whose name contains the colour of the line they are on (as depicted on the tube map) - they are Parsons Green, Redbridge, Stepney Green and Turnham Green.
Not only were the early escalators made of wood, but also the legs of the people who demonstrated them. Wooden legged bumper Harris was emloyed to travel up and down the tube's first escalator to prove that it was safe.
Waterloo and King's Cross stations share the highest number of escalators - 20 each.
Angel has the longest escalator on the tube network and the 3rd longest escalator in western Europe.
The Jubilee Line is the only line that intersects all others. The District Line meets all other lines except the Metropolitan Line; which it misses by approximately 20 m at Aldgate. If, however, the Hammersmith and City Line is considered as part of the Metropolitan, as it once was, then the District qualifies.
The Waterloo & City Line is the only line to both start and end in Zone 1.
Greenford and Stratford are the onlys station that have escalators up from street level to the platforms.
Out of the 287 stations, only 29 are south of the river Thames.
The Jubilee line was originally going to be called the Fleet line.
The Jubilee Line Extension was the most expensive railway line ever built. It cost USD 330 million per kilometre.
The phrase "Mind the Gap" originated on the Northern line.
Only one person was ever born in a tube carriage and her name is Thelma Ursula Beatrice Eleanor - check out her initials. She was born in 1924 on a Bakerloo line train at Elephant & Castle.
Victoria is the tube's busiest station with 85 million passengers each year and King's Cross has 70 million passengers each year.
It is possible to travel through ten stations in a row all beginning with the same letter without changing trains, on the Piccadilly Line, by starting at Hounslow East, travelling towards Heathrow and round the Heathrow loop and returning to Hounslow East again. Intermediate stations are Hounslow Central, Hounslow West, Hatton Cross, Heathrow Terminals 1,2,3, Heathrow Terminal 4, Hatton Cross again, Hounslow West again, Hounslow Central again, returning to Hounslow East.
The only station on the Underground with London in its name is London Bridge. The station for London City Airport is on the DLR.
Victoria and King's Cross record the highest number of tube suicides each year.
The peak hour for tube suicides is 11am
Chancery Lane has the shortest escalator on the system - 50 steps.
The shortest distance between tube stations is Leicester Square and Covent Garden on the Piccadilly line - 0.16 miles. It is quicker to walk this distance than travel on the tube.
An estimated half a million mice live in the Underground system. Anthea Turner and her sister Wendy have written a series of children's books about mice living on the London Underground.
The best places to spot mice running around the tracks of the underground are Waterloo station (northbound on the Bakerloo line) and any platform at Oxford Circus.
The Gappe is a little known bird/bat like creature, which only tube announcers can see
The shortest distance between tube stations is Leicester Square and Covent Garden on the Piccadilly line - 0.16 miles. It is quicker to walk this distance than travel on the tube.
Angel has Western Europe's longest escalator 318 steps with a vertical rise of 27.5 m
The air in the underground is on average 10°C hotter than the air on the surface.
Mosquitoes that live in the underground have evolved into a completely different species, one that appears separated from the above ground mozzic by over a thousand years.
Regent's Park, Piccadilly Circus, Hyde Park Corner, and Bank are some of the few stations which do not have an above ground surface building

Pigeons regularly travel from West Ham in east London to central London on the tube in order to get more food.
Bank has more escalators than any other station on the tube - 15 plus two moving walkways
Northfields station on the Piccadilly line was the first to use kestrels and hawks to kill pigeons and stop them setting up homes in stations.
The Central line covers the longest route - from West Ruislip to Epping you will travel 34 miles without changing.
Amersham is not only the most westerly station in London, at 150 metres above sea level, it is also the highest -150 meters above sea level.
Green grapes cause more accidents on the London Underground than banana skins.
Fish and parcels is the slang name for the District Line. It should be Pony and Trap.
More of the London Underground is open than in a tunnel
People were shorter when the carriages were built in the 1860's - that is why the carriages now feel uncomfortable.
The Cadbury's Whole Nut chocolate bar is the biggest seller in the chocolate machines at tube stations.
Aldwych station (now closed) is featured on level 12 in the Tomb Raider game with Lara Croft killing rats.
When Aldwych closed in 1994 for maintenance some workers claim to have been scared by a figure who appears on the tracks at night. The station is supposedly haunted by an actress who believes she has not enjoyed her last curtain call. Aldywch used to be on the site of the old Royal Strand Theatre.
More Ghosts on the tube stations >>