London Bus Information
The Central London bus guide will be sufficient for most travellers. This map is available from transport travel information centres at larger Tube stations.
Greater London is divided into 6 transit zones. Anytime you travel beyond one zone the fare rises. You can save money by only buying as far-ranging a Travelcard as you'll need, but do not try to use a pass to go to a zone you are not authorized for! You'll be liable for £10 fine, and inspectors DO check.
Bus Pass
There are weekly and monthly passes good for unlimited travel on all London buses, but a better deal is the London Travelcard, good for unlimited travel on both the Underground and the buses. Travelcards can be purchased for 7 days or more at a time, but they require a passport sized photo.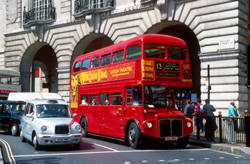 Visitorcards are another option. They do not require a photo, and can only be purchased outside the UK. In addition to unlimited bus and Underground travel they include discount vouchers for many popular tourist attractions. Note that the Visitorcard is NOT valid for the Heathrow Express.
Night Buses

London is a 24-hour city so buses run throughout the night. Night bus services cover the period between the close of the Tube and the start of daytime bus services. In addition, many London bus routes run for 24 hours.
Bus passes are valid for the whole bus and tram network in London (unlike the Tube there are no fare Zones). And with Oyster's daily price cap system, the most you will be charged per day when you use Oyster to pay as you go on bus and tram services is £3.90 (adult fare).
London Bus Pass Prices
Standard adult fares:
7 Day: £16.60
1 month: £63.80
1 year: £664
Since January 2010, 1 and 3 day bus passes are no longer available.
London Bus Fare Concessions
All children under 16, plus 16-17 year olds living in London and in full-time education, can travel free on buses. You will need a photocard (not required for children under 5).
Freedom Passes provide free travel for wheelchair users, as well as for older and disabled persons.
Buy Before You Board/Ticket Machines
Most routes in Central London require that you buy tickets before you board. Ticket machines selling single fares and daily bus passes are located next to the main bus stops on these routes. You'll need the exact money as the machines do not give change. Many newsagents sell bus passes and also have Oyster top-up facilities.
London Bus Tours
London bus tours provide a unique opportunity to appreciate the full architectural splendour of London's famous streets and monuments. Tour guides offer historical background and interesting facts, with commentaries available in several languages.
If you're not familiar with the routes, head to Trafalgar Square (the hub for night buses) or check any bus-stop information board. As you'd expect, services are less frequent during the night. Night buses stop on request only: so you'll need to indicate your stop clearly to the driver when boarding or alighting.
London Bus - Accessibility Information
Buses are an accessible way to travel around London. All of London's 8,000 buses are now low-floor vehicles (excluding Heritage buses on routes 9 and 15).
Low-floor buses enable all customers, including people using wheelchairs, people with baby buggies (prams/strollers), people with assistance dogs, and people with other mobility impairments to get on and off easily. Every bus also has a retractable ramp, which must be in full working order at all times.
On all buses, there is room for one person using a wheelchair. Wheelchairs can be accommodated up to a size of 70cm wide by 120cm long. Wheelchair users have priority over everyone else for use of the wheelchair space. There is no limit on the number of assistance dogs allowed on the bus, as long as there is space.