Hyde Park: The park covers 142 hectares (350 acres). There is something for everyone in Hyde Park. With over 4,000 trees, a lake, a meadow, horse rides and more it is easy to forget you're in the middle of London. From formally dressed horse-riders to scantily clad sunbathers, this area attracts and welcomes everyone.
Hyde Park is the largest of four parks which form a chain from the entrance of Kensington Palace through Kensington Gardens and Hyde Park, via Hyde Park Corner and Green Park (19 hectares), past the main entrance to Buckingham Palace and then on through Saint James's Park (23 hectares) to Horse Guards Parade in Whitehall.
Technically two different parks, Hyde Park and Kensington Gardens are in practical and historical terms one huge, merging expanse. Hyde Park boasts of Speaker's Corner, a venue for free speech (an 1872 law made it legal for a speaker to assemble a crowd and address them on any subject), and the Serpentine lake, lido and art gallery.
At around 10.30 am every day the Household Cavalry can be observed riding through the park from Hyde Park Barracks to Buckingham Palace. On royal anniversaries and other important occasions a 41-gun salute is fired in Hyde Park, opposite the Dorchester Hotel in Park Lane.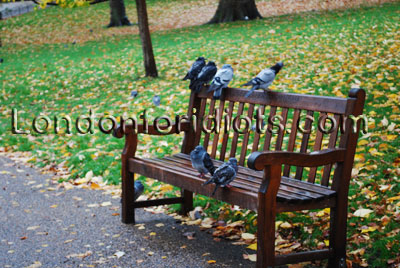 History : Henry VIII acquired Hyde Park from the monks of Westminster Abbey in 1536; he and his court were often to be seen on thundering steeds in the hunt for deer. It remained a private hunting ground until James I came to the throne and permitted limited access.
Many of the striking features seen today in Hyde Park were created in the 18th century by Queen Caroline. In 1728, she took almost 300 acres from Hyde Park to form Kensington Gardens and she separated the two parks with a long ditch. Queen Caroline made a large lake called the Serpentine by damming the Westbourne Stream. More recently, in 2004, the memorial fountain to Diana, Princess of Wales, was built in the park.
The giant Crystal Palace was built here for the Great Exhibition of 1851, before being dismantled and reconstructed in the south London suburb which carries that glassy name today.
Hyde Park became a venue for national celebrations. In 1814 the Prince Regent organised fireworks to mark the end of the Napoleonic Wars, in 1851 the Great Exhibition was held and in 1977 a Silver Jubilee Exhibition was held in honour of Queen Elizabeth II's 25 years on the throne.
Sites of interest in the park include Speakers' Corner (located in the northeast corner near Marble Arch), close to the former site of the Tyburn gallows, and Rotten Row, which is the northern boundary of the site of the Crystal Palace. South of the Serpentine is the Diana, Princess of Wales memorial, an oval stone ring fountain opened on 6 July 2004. To the east of the Serpentine, just beyond the dam, is London's Holocaust Memorial.
Flora and Fauna
Hyde Park provides a unique habitat in the heart of London for a diverse variety of species of flora and fauna.
The trees, shrub beds and herbaceous plantings provide rich habitats for song birds including the robin, dunnocks and tits. Look out for small groups of Long Tailed Tits that hop around from tree to tree looking for insects and nesting materials. However, over feeding of aggressive feral pigeons and squirrels threatens the native song birds as they are not able to compete with these pests.
Look out for the exotic looking great crested grebes and their spectacular mating rituals. The lake also attracts a large number of insects that provides a perfect feeding ground for bats. The best place to view bats is on Dell bridge around dusk and also close to Serpentine Bridge. Recent sightings have included a black swan, a buzzard and egyptian geese.
A botanical curiosity is the Weeping Beech, Fagus sylvatica pendula, cherished as "the upside-down tree".. A rose garden, designed by Colvin & Moggridge Landscape Architects, was added in 1994.
Admission free
Underground Stations: Knightsbridge (10 minutes), Lancaster Gate (13 minutes)
Railway Stations: Paddington Railway Station (20 minutes), Marylebone Railway Station (25 minutes)
Opening hours: The park is open from 5am until midnight all year round.