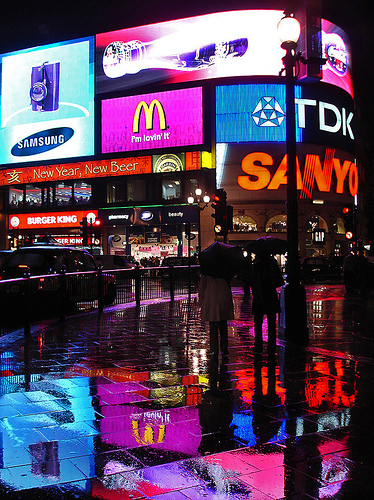 London has a temperate marine climate, like much of the British Isles, with regular but generally light precipitation throughout the year. London's weather changes from cold and damp in winter to bright and warm in the summer.
London is a relatively dry city with light precipitation throughout the year, with average precipitation of 583.6 millimetres (22.98 in) every year. Snow is relatively uncommon, particularly because heat from the urban area can make London up to 5 °C (9 °F) warmer than the surrounding areas in winter.
Recent summers have seen record temperatures, approaching 40°C and autumns have been positively toasty. As the tube turns into the Black Hole of Calcutta and traffic fumes become choking, London is particularly ill-equipped to cope with such heat. Despite the appearance of snow in the past few years, it still rarely freezes in London. What weather forecasters do predict in the long-term, as a result of climate change in London, is drier summers, wetter and stormier winters and more flash floods.
Here's what you can expect to find throughout the year.
Spring (Mar - May)
Quite unpredictable with a good mixture of sun, rain and cloud. Temperatures average between 11°C and 15°C. Take a jacket when you go out.
Summer (Jun - Aug)
Summers are warm with average high temperatures of 21 °C (70 °F) - 24 °C (75 °F) and lows of 11 °C (52 °F) - 14 °C (57 °F). But temperatures can exceed 25 °C (77 °F) on many days, and in almost every year they exceed 30 °C (86 °F) on some days.
Autumn (Sep - Nov)
Pretty much the same as spring. However it's not unknown for summer to run well into September or for November to be uncharacteristically cold. So be prepared.
Winter (Dec - Feb)
Temperatures hover around 6°C and it's normally mild but damp. It rarely freezes or snows in London, but you'd be wise to take a hat and gloves when going out.
Read more