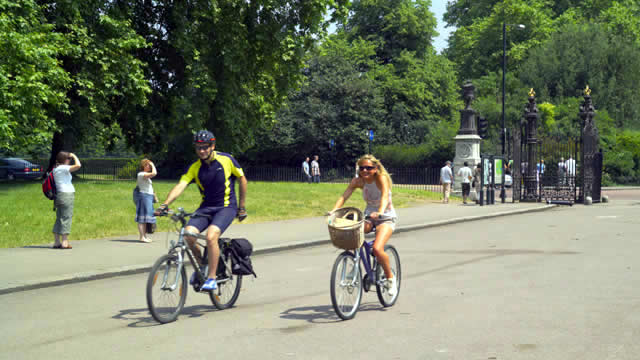 Seeing London By Bicycle
Cycling in London is a cheaper, and often quicker, alternative to travelling around the city by public transport or car.
On-road cycle lanes vary. Some have raised concrete kerbs that separate the cyclist from the traffic, whilst others are defined by lines painted on the road surface. The Cycle Superhighways went into use in May 2010.
Cycle paths include routes through the royal parks (St. James's Park, Hyde Park, Regent's Park and Green Park), along the Thames Path and London's canals and waterways. There is a code of conduct for riding on London's towpaths.
Cyclists can legally cycle in London's Bus lanes.
Unlike some European cities, bicycles are not allowed on many forms of public transport in London. The DLR and most inner London tubes do not carry bicycles; they are generally permitted on National Rail, Circle and District Line trains outside the rush hour, and certain other tube lines in outer London. However, folding bicycles are allowed on all tube lines, trains and trams; they are also allowed on buses at the driver's discretion.
When cycling through London's busy traffic, it is essential to wear a helmet. Some people also opt for facemasks. It's very important to be seen by other road users, so wear reflective clothing and make sure your lights are working.
Several companies hire out mountain or hybrid bikes in good condition. Deposits of £100 to £200 are generally required (credit cards are accepted), regardless of rental period. The London Bicycle Tour Company hires bikes at reasonable rates, with lower charges for longer rentals. It also offers daily bike tours of London (weekdays only during the winter season), with or without bike hire.
The Barclays Cycle Hire scheme (www.tfl.gov.uk/barclayscyclehire)
Barclays Cycle Hire is the easiest way to get on a bike quickly. It's great if you want to hire a bike for a short time, and is available to everyone over 14-years-old.
Anyone can rent a bike from any of the hundreds of docking stations dotted around the center from Whitechapel to Olympia, and Hoxton to the Oval. Stations are scheduled to spread further east during early 2012. There's no need to return the bike to the same docking station you collected it from, making the scheme ideal for short-range tourism. Charges are made up of a fixed access fee -- £1 per day or £5 per week -- and a usage fee -- it's free to rent a bike for 30 minutes, £1 for an hour, £6 for 2 hours, £15 for 3 hours. Buy access with a credit or debit card at the docking station or join online. Regular visitors to the city should consider annual scheme membership, which provides you with a quick-access key (£3), and allows you to manage a running account balance online. The bikes are suited to anyone aged 14 or over.
For longer-term rental and better equipment, try On Your Bike, 52-54 Tooley St. (tel. 020/7378-6669; www.onyourbike.com; Tube: London Bridge), open Monday to Friday 7:30am to 7pm, Saturday 10am to 6pm, and Sunday 11am to 5pm. Hybrid bikes, with high seats and low-slung handlebars, cost £12 for the first day and £8 for each day thereafter, or £35 per week, and require a deposit on a credit card.
You should always ride London's roads with extreme care. Most importantly, never under-take a large vehicle close to a junction or corner.