Kew
Richmond upon Thames
LONDON TW9 3AB (Junction of A307 and A205)
Kew Royal Botanic Gardens: A UNESCO World Heritage Site, these magnificent London gardens with their amazing glasshouses and galleries are an important historical legacy. Henry VII moved his court to Richmond Palace in the summer months and the nearby Kew village flourished. Since 1840 Kew Park has been open to the public.
The Gardens cover an area of 300acres and lies on the south bank of the Thames River between Richmond and Kew in the suburbs of south-west London. Centuries ago there were two estates here, Kew Estate and Richmond Estate. These estates were combined to [eventually] form the Royal Botanic Gardens.
The gardens today present a mix of landscaped lawns, formal gardens, and greenhouses.There are conservatories, a herbarium, a library and eating places. In the winter months there is an ice rink. Kew functions as a botanical research centre and maintains the largest plant collection in the world. The various greenhouses display plants from across the world in climate controlled environments. Queen Charlotte's Cottage (open only in summer) is a pretty summerhouse lying alongside a lake.
Free tours of the gardens are conducted by trained volunteers and leave from Victoria Gate at 11am and 2pm every day (except Christmas Day). Kew is one of the most popular visitor attractions in the London area and can therefore be etremely crowded during the summer months, particularly on summer weekends. Also, the Gardens are huge (300 acres) and can take an entire day to cover.
New Tropical Carnivorous Zone
Opening for spring 2013, Kew's new Tropical Carnivorous Zone can be found in the Princess of Wales Conservatory.
The display features carnivorous pitcher plants Nepenthes truncata, N. rafflesiana, the 'fanged' N. bicalcarata, N. vietchii and the recently described N. robcantleyi, which has been displayed at the RHS Chelsea Flower Show.
The zone also features elephant yam (Amorphophallus paeoniifolius), voodoo lily (A. variabilis) and a new hybrid at Kew A. decus-silvae × gigas, plus a range of epiphytic ferns and orchids including Bulbophyllum species.
There are many plants and fungi out there that defy the conventions of 'ordinary', such as the foul smelling corpse flower (Rafflesia arnoldii).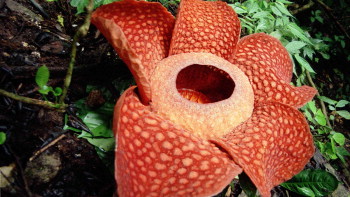 Note: Dogs are not allowed in the Gardens.

Opening hours: Open every day at 9.30am - 6.30pm weekdays / 7.30pm weekends, Bank Holidays
The Palm House will be closed from 2pm Tuesdays
Entry to the IncrEdibles Festival (Saturday 25 May - Sunday 3 November 2013). Boating lake tickets are available at additional cost (online or at the pond kiosk on the day).
King William's Temple in the Mediterranean Garden is closed for the time being for essential maintenance works.
The Evolution House is closed until further notice for horticultural maintenance to allow us to remove, relocate or propagate important plant collections.

The Temperate House will close for a major restoration project in mid to late summer 2013. The anticipated completion date for the project is May 2018.

Admission Charges:

£14.50 for adults and £12.50 for concessions.Free entrance with London Pass.
Children under 16 (accompanied by an adult) FREE


About the Park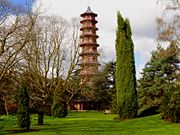 Pagoda: The Chinese Pagoda is Kew's most recognizable structure. Built by William Chambers and erected in the year 1762. From the base to the highest point is 163 feet (50 m).

The Lake

: The Lake is artificial and was started with the present Pinetum and enlarged by extending gravel pits. Moisture-loving trees and shrubs are planted all round. The islands are planted with nyssas. There are ornamental waterfowl on the water and on the surrounding lawns. Moisture-loving trees and shrubs are planted all round, while the islands are planted with nyssas for their autumn colour which reflects with spectacular effect in the water. There are ornamental waterfowl both on the water and on the surrounding lawns.

Chokushi-Mon: Standing near the Pagoda there is a replica of part of a Japanese temple. Built in 1910, it is a copy of the Chinese gate of Nishi Hongan-ji in Kyoto.

Museums and gallery: Museum No. 1 opened in 1857. Its aim was to illustrate mankind's dependence on plants, housing Kew's economic botany collections including ornaments, tools and medicines.

Nearest tube: Kew Gardens Station, District Line
Bus routes: 65 and 391